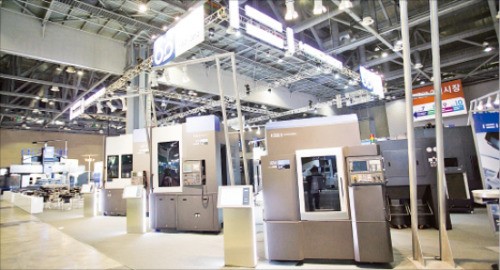 Hwacheon Machinery is the leading manufacturer of machine tools in Korea.
Beginning with the belt-driven lathe in 1959, Hwacheon has since developed gear-operated lathes, NC (numerical control) lathes, CNC (computer numerical control) milling machines, and horizontal machining centers. Currently, the company also manufactures and sells large machine tools required in the aviation, wind power, and shipbuilding industries.
Hwacheon Machinery#s main areas of business are machine tools and automotive parts.
Machine tools are known as 'machine making machines' and serve as the basis for all manufacturing industries. Around 60% of automotive parts are made by using machine tools. Hwacheon is the biggest manufacturer of machine tools in Korea. Holding titles for various firsts in the machine tool field in Korea, the company continues to develop new products based on the know-how it has accumulated over many years.
For this purpose, Hwacheon runs research laboratories in Gwangju and Changwon city in Gyeongsangnam-do. The company extended its business to automotive parts industry in early 2000, firmly supported by its machine tool technology. Among the automotive parts, Hwacheon manufactures the cylinder block, an engine component that requires the great precision and highest machining technology of all automotive parts, with machine tools that the company has developed on their own. In addition to cylinder blocks, Hwacheon also supplies cylinder heads and crankshafts to car manufacturers.
Last year, Hwacheon developed the world's first 'smart machine tool', which received great acclaim at the Seoul International Manufacturing Technology Show. Building on such advanced technology, the company took part in the 2013 Korea International Die?Mold & Related Equipment Exhibition (INTERMOLD 2013#) in March and 2013 Busan International Machinery Fair (BUTECH 2013#) in May to consolidate its place as the leader of technology in the industry.
Hwacheon continues to develop human resources through education and training of its employees. Hwacheon cultivates a sense of global awareness in its staff and engineers by sponsoring visits to international exhibitions and overseas training programs.
Hwacheon Machinery also contributes to society. As a machine tool specialist company, Hwacheon sponsors Korea Polytechnics and other relevant universities in the region to foster the next generation of machining experts. And recently the company has founded Seo'am Cultural Foundation to support artists and art programs, and also regularly helps the poor and the disabled, the disadvantaged people in need.
Learn more about Hwacheon from your Wisconsin/ UP of Michigan dealer- Premier Machine Tool Midwest – sales 414-254-5150 / info@pmtmidwest.com
Come see us at the Wisconsin Mfg and Technology Show Oct 6-8,2015 – Booth 145